Orientation
On Wednesday, 18.05.2016, we got our first official look at where we will be studying the next 4 weeks, Maastricht University itself. We were all introduced to the director of the Center for European Studies (CES) and he explained some background information of the Netherlands, as well as the rules and expectations. One quote we all have been fascinated with in our first week in Europe is, "For
Americans 100 years is old for Europeans 100 miles is far". The director informed us that Europeans never travel hour and a half in one day and back, if it were him he would stay over wherever he was traveling to. He also informed us they're two gym options: the MAC gym (not associated with the Mid Atlantic Conference 😉 ) or the university gym-both are pretty expensive for just a month. I ran to the MAC and the guy told me the only option I have it 70 eur
os for two months. We all introduced ourselves to the Xavier students as well.  Then we had breakfast with pastries and coffee for free (which was very
nice), more presentations about our courses and then free lunch in the cafeteria. The meal consisted of meatballs, mashed potatoes and chicken (kind of looked like dog food). The food was not very good, but it was free so I can't complain!
Then, we split up into two groups and had a practical tour of the city. The next day we started our Intercultural Communication class with our Professor from Belgium, Sophie Limbos. We all have a combined class with Xavier students in the morning 10:00-12:00, lunch until 12:45, then we are divided into two classes: one is from 12:45-14:45 and the other is from 15:00-18:00. The objective of this course is to understand differences in communication processes among cultures, become self-aware of our own culture and others and know the
dynamics between interactions among the two. So far class has been very intriguing and I am excited to learn what the course has to offer! She also told us its not uncommon for kids to know 3+ languages, and Belgium is 800 euro for college regardless of major!
The rest of the evening we booked flights and more travel itinerary for the next couple weekends. 
Thursday, we had Professor Delavan's class for the first time. This class is 9:00-
12:00 and 13:00-16:00 and just has LVC students in it. It's a great opportunity for the 10 of us
and Professor Delavan to get to know each other. This course is focused on a complete overview of Europe's business landscape, and examining the regions diverse economies and government policies. After class, Devon, Nick, Blake, Evan, and I pretty much sprinted to the train station to catch a bus at 16:30. The rest of the group (Gianna, Aaron, Jillian, and Brandon) were going to Amsterdam to stay overnight and then fly to London in the morning! Our group embarked on a journey to Brussels, Belgium for the weekend. Upon arrival we went right to our first hostel experience. It was pretty nice I thought; we had a window that led to a rooftop that was fun to sit outside of. However we didn't stay long, we put our belongings in a locker, locked it and left to explore the city.
Here's a few things to know about Brussels:
Brussels is not only the capital of Belgium, but also the seat of the European Union, and is consequently known as the 'capital of Europe'.
Has one of Europe's most beautiful squares, La Grande-Place. (I didn't have as good of a picture so here's one from google to get an idea of how incredible it truly is).
Actors Audrey Hepburn and Jean-Claude Van Damme were both born in Brussels
Home of the famous statue of Manneken-Pis 
No set language; people speak French, Dutch, and German.
We traveled to a new country in two hours and I can't even drive to the beach in 2 hours when I'm home, let alone get out of Pennsylvania . That is why Europe is more diverse: you hit more countries than the US can, which is why Devon and I were able to
travel from Germany to Belgium to the Netherlands all in one day (I'll explain a little later). A great visual example is that Texas covers a majority of Europe, showing that the US is quite larger than Europe.
Upon arrival we immediately realized that the security in Brussels is heightened due do the recent terrorist attacks. We saw multiple armed guards walking around and standing at major buildings. I think we navigated city pretty well, and were expecting more language barrier, but since Devon took German and I had Spanish at LVC, we were impressively picking up a lot.  I got to talk to some native French people and I was surprised by how much I remember from 8th and 9th grade. We were noticing a lot of differences between Belgium and the Netherlands just from the few hours we spent in Brussels.
We saw Cathedral of St. Michael and St. Gudula which was absolutely beautiful, and monument Aux Heros De La Guerre. Then found a place to get a classic Belgium waffle for
dinner, which was everything I expected a Belgium waffle to be. Next stop was Delirium Cafe. It's a famous bar known for its long beer list, standing at 2,004 different brands
and recorded in the The Guinness Book of Records. It offers beers from over 60 countries, including various Belgian beers. 
The social aspect of drinking is quite different here, and people drink openly in the street because its legal. Besides seeing a Belgium bar, we noticed other cultural differences here; people smoke frequently, drive wildly, and travel by metro prominently. 
After a busy evening of exploring the city and purchasing Belgium chocolate for souvenirs we headed back to the hostel outside the city. The locks Evan and Blake had on their stuff got stolen, but fortunately nothing was stolen! Nick talked to the guy, Victor, at the front desk about it and he was very nice and friendly but couldn't do much about it. Although nothing physically was stolen, our sense of security was taken. Blake, Nick, and Evan were leaving for a flight at 4am to Budapest and Devon and I were planning on staying in the hostel until returning to Maastricht Sunday. After realizing the locks were taken Devon and I quickly changed our minds and booked a bus to Dusseldorf Germany instead so we wouldn't stay in the hostel alone. 
Early Friday  morning Devon and I talked to the lady at the front desk about getting a  refund for our next two nights we booked because we didn't feel secure in the hostel. She was not very understanding and only gave us Saturday night's stay back. Cutting our losses, we headed to the train station to catch our bus and explore Germany.
On the 3 hour bus ride we met a lady from California who lives in Brussels now and loved Devon's back pack . Typically if I meet someone from the states I ask them if they know were Hershey is and 7/10 people have said yes "its a chocolate place". They usually know where Philly is too, but when I ask if they
know Knoebels, they rarely do.
After wandering around the city we realized dogs are allowed in stores, shopping in Europe is cheaper than America (at least where we went), and Diversity in Düsseldorf is greater than in Maastricht and is somewhat comparable to Philadelphia. Everyone was very helpful and friendly although the people we talked to might not have known English well,they didn't get frustrated with our questions (especially ordering out to eat).

We then traveled to the Goethe-Museum, which is a grand 18th-century house with a collection of artifacts relating to Goethe's life & work. While there we met an older guy and he gave us his daughters disco card to go to and said if we ever need anything while we're in Germany to let him know. He was from California originally, and moved to Germany with his girlfriend, and has 4
kids. He asked us if we were in Germany for
Japan Day on Saturday. He informed us that it is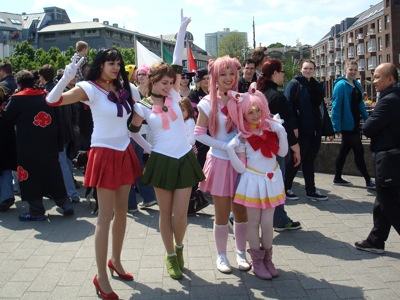 a German-Japanese festival celebrated every year
in May or June in Düsseldorf. Unfortunately we were planning on going back to Brussels to catch a cheaper bus to go home to Maastricht so we couldn't go, but it was neat to see everyone dress up in preparation for the festival. While continuing our exploration of the city we noticed people walk really close to you and we are already paranoid so it's hard to be comfortable with that, We still get weird stares so apparently we don't look European yet.. Although we did get asked for directions from a lady, but another guy we talked to said he spotted us as Americans a mile away haha.
Exhausted from traveling we checked into a hotel (since the last hostel was still
fresh in our mind). One interesting thing was that I had to use my passport for booking the hotel.  The following morning we had free breakfast in the hotel and had to get Spaghettieis before we left for Belgium. Spaghettieis is a German ice cream dish made to look like a plate of spaghetti. Vanilla ice cream is extruded through a modified Spätzle press to make it look like spaghetti. 
Our second visit to Brussels was a better experience than when we left. We toured
more of the city and got to experience the Zinneke Parade! Its held every two years so we felt honored to get to experience it. Basically (from our pamphlet we
were given) it's a contemporary, urban, creative, artistic parade. Different inhabitants, associations, school, and artists all come from different
neighborhoods of Brussels and beyond to present themselves as an expression and experiment in making a city through diversity. It was quite a site to see! After shopping in some local stores (where I of course purchased a soccer ball) we listened to the Jazz festival that was going on in the La-Grand Place.
After another long day of touring we headed back to Maastricht Saturday night instead of Sunday night like originally planned. On the bus we met Cecile, who said she was going from France (where she studies) to Maastricht to surprise her boyfriend and offered to show me around when I go to Paris in 3 weeks. Sunday we rested from our travels, did homework for the upcoming school week, did laundry, and went grocery shopping. 
Just for fun:
You have to pay for public bathrooms.

Maastricht has around 22,000,000 bikes, and stealing bikes is considered a sport.

Dutch people are tall

Learning to look at life's interruptions as blessing in disguise; if the locks weren't stolen in Belgium Devon and I wouldn't have gotten to experience Germany.
I sleep less here than in America.
Jillian and I vow to try all the different coffee types here since we are coffee fanatics. Coffee here is smaller in size and less sweet; so we get to appreciate the taste.
It is very easy to become dehydrated while traveling since water isn't cheap and you sort of forget that you haven't had any when walking around.
I wear a GPS watch that tracks my steps and I have about 15 miles tracked each day (with running). If you told me I would walk this much in America I would think you're crazy, but here it's normal.
Cursing seems to be a universal language, as well as smiling.
Although trivial: Devon and I were disappointed that we didn't get our passport stamped since we entered Belgium and Germany by bus instead of plane.
After a week in a new place I learned my sense of directions is still lacking. I didn't get lost on my run by myself today but I got lost returning from the grocery store 10 minutes away; baby steps I suppose!
I saw a group of students playing SPUD by the guesthouse. SPUD was a childhood game I used to play and I wanted to join but the language barrier wasn't ideal.
Dutch words
kaas – cheese
cashewnoten – cashews (because Gianna is allergic)
geen doorgang – no entry
Duwen- push
Trekken- pull
 German words
Sprechen Sie Englisch? – Do you speak English?

Danke- thank you
Wie viel- how much?
Hallo- hello!
Tschuss- bye!
(Thankfully Devon knew German so I didn't have to try to pronounce words, I opted to learn simple phrases as you can tell)
French words
Toliet s'il vous plait – toliet please
comme ci, comme ca- so so
comment tu t'appelles- what's your name?
je m'appelle- My name is
Merci beaucoup- thank you very much
Overall, after traveling away from the Netherlands for a weekend, Maastricht surprisingly is feeling more and more like home after returning. I am excited for a full week of classes this week and the opportunity to learn something new each day! Thanks for reading and have a wonderful week!
Au Revoir,
Teanna